Welcome to HAYAWAZA
Thanks for visiting my page. I'm HAYA. My blog is all about how to keep your life simple and stress-free. You will be able to find tips for "lifehack" here. Enjoy!
Main contents
…is HAYAWAZA which means skills that help you to save your precious time by doing things efficiently . I'm also going to write about my daily thoughts, trends in Japan, and more!
Sub contents
•book report… I wouldn't talk about sophisticated stuff about literature but what I thought beneficial for better lifestyle.
•places to go in Japan…There are too many great places in Japan where I want you all to visit!
•"Log project"… I would love you to be in part of various interesting projects I organize!
•creative items and more… Leave comments and let me know your thoughts!
About me
Name: HAYA
Sex: male
Age: 30s
Job: president of a company in Tokyo
Hey all, I'm a bit shy to show my pic here so I put my anime like image instead;p Let me introduce myself a little deeper. I'm a tall curious active guy who is always motivated to create connections between people both in my business and everyday life. I should be motivated to find a nice girl for myself though… Anyways, I like meeting new people and exchanging ideas.
My current goal is to make this blog 100K PV/month within 3months.
→Achieved in March, 2012!!!!!
I'm going for 300K PV now!!
Interested in…
Lifehack (I'm still not sure what "lifehack" truly means but here it means tips to make life easier.)
Successful model of business (Just realized that it's not enough to make existing tasks more efficient to create more benefit. But! it's still important to utilize suitable tools to make work flow efficient. )
SNS/Media
HAYAWAZA blog→Add this page to your bookmark now 😉
twitter→follow me @haya1111! I'll follow you back.
Facebook→If you know me face to face, add me as your friend!
Activities/Projects
I like being a part of various seminars and conferences. Since 2012, I took a step forward and organizing them as well. If you are interested, please visit the link below!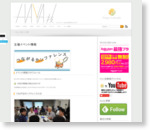 イベント情報 | HAYA技
つながるカンファレンス情報
Tokyo Lifehack Lab
I'm a core member of "Tokyo Lifehack Lab".
Coming up activities
【Soccer offline gathering】
If you…
love playing, watching and/or talking about soccer,
can build friendly relations with people who loves teams that you
dislike,
join us! Ladies are more than welcomed!!
【Seminar staff wanted!】
If you are interested in inventing and producing simple but practical things/ideas, contact us! We are planning to publish a book about lifehack this year, 2013!
If you are interested in me, like soccer, want me to give a presentation, or , have something to say, email me!
→→→info*haya111.com (change*to @)
If you haven't add this page to your bookmark or RSS, please add now 😉
Thank you for reading all!
Array